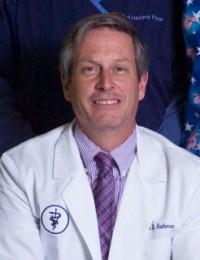 Warrenton has long been integral to Dr. John Rethman's career since 1999, having worked with Dr. Springer's Foxchase Veterinary Clinic from 1999-2003. He was enamored to the point where he made an offer for the practice in 2003, only to be outbid by Healthy Pet Corp. of Connecticut. Healthy Pet eventually hired him back in September 2006 as Chief of Staff, but his return was short-lived as a much larger corporation VCA Antech bought Healthy Pet's Foxchase along with 60 other clinics from Connecticut to South Carolina in May 2007. The new owner, for whatever reason, closed Foxchase within 2 weeks, taking the name with their property rights.
Dr. Rethman assumed the building after VCA Antech's lease ran out in April 2008 and had to re-name the practice Animal Medical Center. Since then has been a slow rebuilding of trust back to the old days enjoyed under Dr. Springer.
Dr. Rethman's motto to return the confidence, service and integrity of yesteryear has attracted back star player Ginger Curry as manager, who worked with Dr. Springer from 1990-2003.
Dr. Rethman earned a B.S. in Biochemistry from Rice University in Houston, Texas in 1978 and subsequently graduated from the University of Missouri Veterinary College in 1982. He has extensive medical and surgical experience being the head associate at Arlington Animal Hospital in 1983-1986. He then was the managing partner in Manassas at Battlefield Animal Clinic from 1986-1997. From 1997-2006 he worked as a Relief Veterinarian in Fairfax, Prince William and Fauquier counties during which he enjoyed his stint with Dr. Springer.