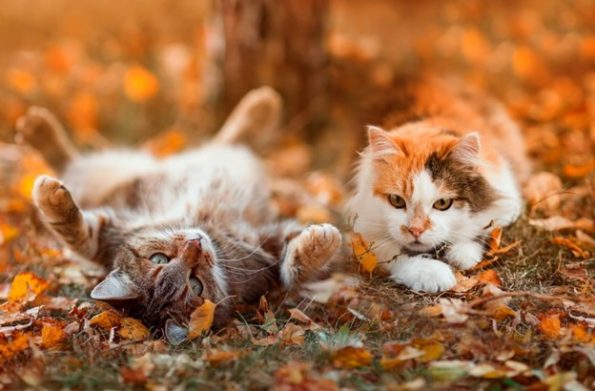 The leaves are changing and the temperature is dropping. It's time to switch out your t-shirts for sweaters and your flip flops for boots. While you may be ready to sip on pumpkin spice lattes and cook hot chili and soups, there may be one member of your family who needs help transitioning to the new season – your pet!
Just like the weather, pets' habits change from season to season. It's important to make adjustments to their daily routines in order to make them comfortable.
There are simple steps you can take to help your pet adjust to the changing season. And it's more than just keeping them warm.
While it is true that a thick, furry coat helps your pet stay warm, it needs to be groomed properly. If your dog or cat's fur gets matted, bacteria and other unwanted ailments can make its way into the pet's skin, causing infections. In other words, make sure to brush your pet more frequently as the weather turns colder.
Not only does the weather change with the seasons, so does the amount of sunlight.  While you may be getting up early in the summer to take your dog out in hopes of avoiding hotter temperatures, you may want to do the opposite in the fall.
In order to beat the darkness, it's a good idea to take your dog on a later morning walk, and an earlier evening walk.
It is important to note that dogs are sensitive to schedule changes. Try transitioning to the new walk times in 15-minute intervals.
You're not the only one who needs to bundle up a little more. Your pet needs to stay warm too. If you want to prepare pets for the fall, consider purchasing cozy beds and blankets for your pets to snuggle with.
Depending on your dog's type of fur, it may also be worth it to buy a dog coat to protect it from the chill and rain.
For many households, your schedule changes with the fall season. Kids are back to school, you may be spending less time outside, and your family activities may change. This can affect your pets.
Consider making time before and after you leave for school or work to give your dog or cat some special attention. Also, plan fun weekend activities that you can include your pet in.
Fall is a great time to take advantage of the outdoors alongside your four-legged companion. By taking simple but necessary steps to prepare your pet for colder months, it helps you and your pet enjoy this time of year safely and comfortably.