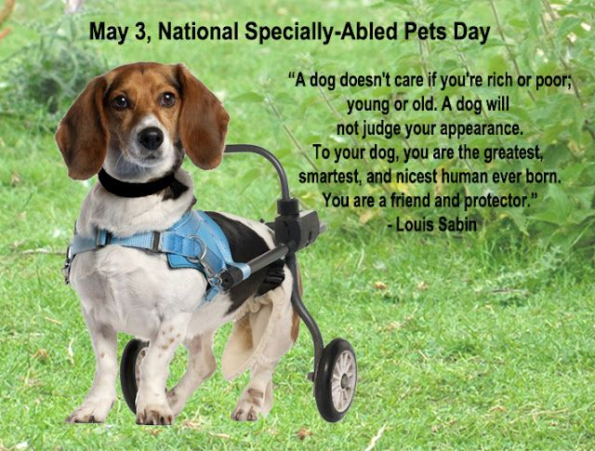 Tripods! Blind and deaf dogs! They're all adorable in our books.
May 3 is Specially-Abled Pets Day, a day that celebrates disabled pets and encourages families to open their homes to animals with special needs. In shelters across the country animals with challenges are usually the last pets adopted and the first ones euthanized.
When you give a home to a special dog, you save a life, you receive tons of love and you teach your kids wonderful life lessons."
Are you concerned about a special pet integrating into your home? Don't worry. Dogs don't have human hang-ups about missing body parts or disabilities. They don't worry about their appearance or that other pets will tease them.
Tripods and Paraplegics
As soon as they're able, canine amputees usually get up and start figuring out how to rebalance and walk around.
Take a blind dog, please.
That means dining room chairs should be moved back into position when you're done, and pick up backpacks and bags from off the floor. Don't move the food bowls or close doors that are normally left open. Put up barriers to outside doors, stairways, balconies and other dangerous areas.
While most visually impaired dogs quickly memorize routes through the house, when they first come to their new homes, dogs may be prone to bumping into things. A little foam wrapped around chair legs reduces unnecessary headaches, and dabbing perfume on furniture as well as on walls and corners allows visually-challenged dogs to maneuver without slamming into objects. Get on your hands and knees (dog eye level) to find sharp or jutting objects.
Because blind (also deaf) dogs startle easily when sleeping, families with mischievous kids don't make ideal homes. When startled out of a sound sleep, these dogs may bite. People can safely approach visually and hearing-challenged dogs by patting a nearby cushion or tapping on a wood floor. Another tip: Always speak before touching a blind dog to prevent him from being startled.