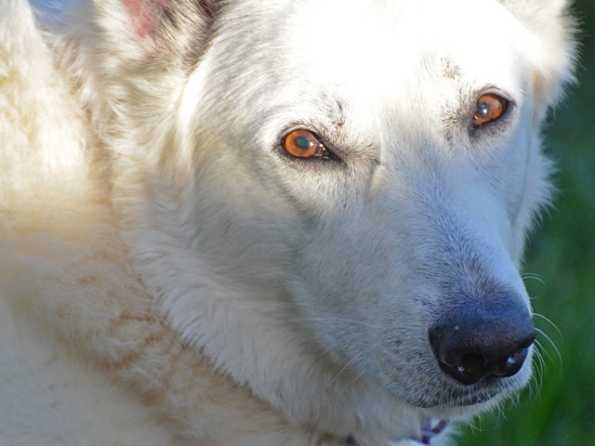 Her determination, the will to live, amazed us for months.

Only once did she fail to climb the 15 steps each night to reach our bedroom.


Sometimes each step seemed to take every bit of strength and concentration.

With a hand behind each haunch, I made sure she wouldn't fall and provided encouragement as Zelda conquered a few more steps before taking a break and reassessing her situation.

Each morning, we reversed the journey — one she would make only when sure that Ellen and Zoey would join us, leaving the upstairs cave.

With three fingers inside her purple color, I guaranteed she would not take a snout-first tumble.

For five months, the 112-pound, 10-year-old white German shepherd kept weight off her left forepaw.

In addition to climbing and descending the stairs, Zelda scampered up to the garden and back. She clamored up and down the ramp built to get her into and out of Ellen's Suburban. Zelda rushed to provide backup whenever Zoey barked at a visitor coming up the driveway or a deer emerging from the woods.

She refused to quit.

In February, the limp began. Responsible for the lives and comfort of our fifth and sixth shepherds, we deemed it another routine challenge.

Like most of our dogs, Zelda tested positive for Lyme disease. The tenderness suggested inflammation in her lower leg. But, after weeks of treatment with an antibiotic and an anti-inflammatory, along with repeated visits to the vet, the focus moved up her leg.

A new x-ray suggested bone cancer in her shoulder.

After examining Zelda, Brendan Boostrom, a veterinary oncologist at a large practice in Merrifield, confirmed our vet's diagnosis.

He gently explained our options — from most aggressive to providing comfort and making the best of the time we would have.

We immediately ruled out the only potential cure, which offered little statistical hope of success: Amputation with follow-up chemo and radiation.

We chose what "Dr. Boo" called the best palliative care, with a life expectancy of three to four months. In addition to a daily course of painkillers and other meds, Zelda would return to the Merrifield clinic once a month for extensive examination and an IV that would help keep her left leg from shattering.

Three times we navigated the morning and afternoon rush hours on I-66 to drop off Zelda, return home and then make another roundtrip to spring her following a day at the hospital.

Each time, she limped into and out of the clinic with her dignity intact.

That dignity and her ability to move would guide us step-by-step, day-by-day. We counted on Zelda to tell us.

Several times, we believed the time had come.

About a month ago, she showed no inclination to climb the steps to our bedroom. I dragged a mattress from the basement, settled in for the night next to her in the hall and assumed we'd let her go in the morning.

But, after I got up to make coffee, so did Zelda. She headed for the back door with vigor that had seemed gone.

On three other occasions, I prepared to sleep with her on the first floor, but Zelda suddenly insisted on making the climb.

She also twice lay motionless for 12 to 15 hours, only to rally — in one of those cases rising to walk about 50 yards to the garden on a plateau behind the house and later back.

Whenever one of us got close to her at rest, Zelda would slap the floor repeatedly with her heavy tail. She continued to smile — a lot.

As the days and weeks passed, Ellen and I noticed the pattern. Zelda would lie quietly in a cool spot for hours and then expend the energy she apparently had banked to join us in the garden for cocktails or to make the nightly climb to her bed next to ours.

After our last visit to his clinic on Wednesday, July 6, Dr. Boo softly told us Zelda had just two to four weeks left.

Making the most of our time, we packed up last Friday afternoon and headed for the Northern Neck.

That night, Zelda bounded down her ramp from Ellen's car. An hour later, she followed Zoey through the screened porch door to chase a black cat from the backyard.

After dinner, her Frosty Paws dessert and "Law & Order" reruns, Zelda again methodically climbed the stairs to our bedroom.

But, she slept little, struggling to get comfortable and laboring to breathe.

Downstairs Saturday morning, she continued to struggle. The time had come.

Still, she mustered the strength to walk up the ramp into the Suburban.

A noble beast — who had counseled and calmed us through deaths of parents and other loved ones, my heart valve surgery, the pandemic, starting a new business and countless other life challenges — drew her last breath at 10:58 a.m. July 24 in the back of Ellen's car at the Kilmarnock Animal Hospital.

Zelda's pain and struggle to live ended peacefully, thanks to the compassionate hands and heart of Dr. Joyce Cunningham in our emergency.

Early in our hospice care journey, one of those Facebook memes had stuck with me: "She might only be here for part of your life, but you are her whole life."

Zelda trusted us with everything: Her movement, her food, her complex medication and, ultimately, her departure.

We took those responsibilities very seriously.

With no children, Ellen and I always focus on taking great care of our dogs, who influence our entire lives, from the vehicles we drive to how we go about our daily routines. But, for most of this year, Zelda's care came before virtually everything else. We coordinated trips away from the house to make sure one of us stayed with her or limited the time both of us had to leave.

The joys of owning dogs who seem just a few steps removed from wolves make it all worthwhile — even knowing we'll outlive them. Zelda on Saturday afternoon joined Gonzo, Oscar, Izzy and Cosmo in the ground on this farm near Warrenton.

For the better part of a decade, she joined — and usually lobbied for — the long walk up and down these hills to start the day.

Broad, powerful chest forward, she met visitors to check their credentials. She kept wildlife at bay. She stopped along the way to roll in and eat snow. She relished giving herself spa treatments in a ditch full of water.

Among our six shepherds, she ranked as the most intelligent. She calculated and weighed risks versus rewards. Zelda always understood how to get the ball away from Cosmo, her 132-pound mentor, and then Zoey, the most athletic of our dogs.

Zelda positioned herself to control traffic and to prevent someone from coming or going without stepping over her.

From our trusted breeder near Waynesboro, Zelda came to our home ready for fun two months after her birth March 18, 2011. She took no time to housebreak or to master dog doors.

And, when she flashed those almond eyes — set against white fur — Zelda spoke powerfully without needing words. She could, of course, speak when the situation warranted.

As her mobility declined, a critical part of our daily routine fell victim. We stopped the morning walks and tried to keep Zoey exercised chasing a ball.

The house seemed unusually calm Sunday morning.

Trying to adapt, Zoey and I decided to take a walk. Covering the mile and a half on the farm road, we stopped occasionally for some brushing and for Zoey to sniff familiar territory.

All around us, we felt and missed Zelda.

But, to honor her, we again started walking, as we will do as long as we can.

Soon, another little package of energy and possibilities will join our pack.

He will give us more than he gets.

But, we will embrace our responsibility to serve as his everything.

Thank you, Zelda, for all you gave us.

For Zelda's excellent care and their compassion, Ellen and I thank Dr. Steven Bartlett, Dr. John Rethman and their staff at the Animal Medical Center of Warrenton, along with Dr. Brendan Boostrom and the staff at VCA SouthPaws Veterinary Specialists & Emergency Center.

Contact Editor "Lou" Emerson at LKE@FauquierNow.com or 540-270-1845.