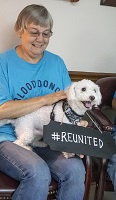 Warrenton Vet Reunites Lost Dog With Owners in Kentucky After Two Years
When Dale Vinson of Cordova, Kentucky first got the phone call Thursday, he thought it was some kind of joke. Someone was on the line from the Animal Medical Center in Warrenton Virginia; the voice on the phone told him they had found "Herman," the little white dog he and his wife Nancy thought they'd lost forever two years ago.
Vinson relayed the story while the couple were on their way to Warrenton from Kentucky. It was an eight-hour trip, and they still had about 368 miles to go.
"Well, we'd done given up on him. We just figured we'd never see him again," Vinson said.
But the couple jumped in the car as soon as they realized it really was true – that their beloved 8-year-old Bichon Frise, Herman, had been identified by Warrenton Veterinarian Dr. Steven Bartlett during an appointment in his office that morning…Read the full story